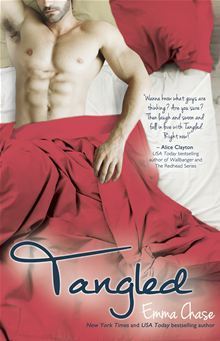 DESCRIERE
Drew Evans is a winner. Handsome and arrogant, he makes multimillion dollar business deals and seduces New York's most beautiful women with just a smile. He has loyal friends and an indulgent family. So why has he been shuttered in his apartment for seven days, miserable and depressed?
He'll tell you he has the flu.
But we all know that's not really true.
Katherine Brooks is brilliant, beautiful and ambitious. She refuses to let anything – or anyone – derail her path to success. When Kate is hired as the new associate at Drew's father's investment banking firm, every aspect of the dashing playboy's life is thrown into a tailspin. The professional competition she brings is unnerving, his attraction to her is distracting, his failure to entice her into his bed is exasperating.
Then, just when Drew is on the cusp of having everything he wants, his overblown confidence threatens to ruin it all. Will he be able untangle his feelings of lust and tenderness, frustration and fulfillment? Will he rise to the most important challenge of his life?
Can Drew Evans win at love?
Tangled is not your mother's romance novel. It is an outrageous, passionate, witty narrative about a man who knows a lot about women…just not as much as he thinks he knows. As he tells his story, Drew learns the one thing he never wanted in life, is the only thing he can't live without.
RECENZIE
Am auzit de acesta carte cu multa vreme in urma, dar nu am avut niciodata interesul sau poate chiar curiozitatea de a o incepe. Asta s-a intamplat pana acum doua zile. Am inceput "Tangled" de Emma Chase si pur si simplu mi-a fost greu sa o las jos din mana. Cartea este geniala si cand spun geniala, chiar asa este. Poate veti crede ca este la fel ca celelalte povesti: un fustangiu se indragosteste, devine cu totul alt om, bla, bla, bla si poate in esenta, acesta este adevaratul fir narativ, dar felul in care este relatata povestea, amuzamentul si absurditatea (in alocuri) ce le poseda, ii confera o alura diferita fata de tot ceea ce am intalnit pana acum. Autoarea are un stil unic de a prezenta faptele, rapind cititorul cu usurinta in constiinta personajului-narator.
Drew Evans este genul de playboy care nu pune sentiment. Aventuri de o noapte, sute de femei ale caror nume le da uitarii in ziua imediat urmatore si alura lui dominanta, siguranta in sine, increderea care ajunge pana la limita inganfarii. Acesta este Drew. Cu toate cele enumerate, autoarea acestei carti geniale ii prefigureaza gandirea in asa mod incat cititorul chiar simte ca poarta o discutie launtrica si deosebit de amuzanta cu omul din spatele acestui caracter, nu cu personajul in sine. Atat de profunda poate fi descrisa ca fiind acesta naratiune.
Inlantuirea faptelor este destul de simpla: Drew o intalneste pe Kate Brooks intr-un bar, iar intre ei se aprinde o atractie palpabila. Ziua urmatoare cei doi afla ca lucreaza impreuna la firma tatalui lui Drew (ati prins ideea ca Drew e milionar). Kate are o mintre stralucita, iar cei doi ajung adesea in conflict pana cand cedeaza atractiei ce ii poseda si uneste. Nu asta este ideea. Ideea e ca povestea e atat de bine relatata, incat am avut impresia ca Drew sta langa mine si imi spune toate aceste lucruri in fata. Este ca un dialog continuu intre cititor si personajul-narator care nu a incetat nicio secunda sa ma surprinda. Pe buna dreptatae a castigat aceasta carte "Goodreads Chioce Awards" la categoria "Debut Goodreads Author".
Bineinteles ca au fost si scene care iti taiau respiratia. Pe cat de intensa a fost aceasta carte, pe atat de amuzanta. De indata ce incepi sa citesti acesta carte, pur si simplu te vei indragosti de personajul lui Drew. Felul cum isi exprima trairile intr-un monolog interior, dar in acelasi timp intr-un dialog cu cititorul, ma face sa apreciez mult mai mult stilul autoarei, decat povestea in sine. Nu ma intelegeti, gresit; si firul narativ a fost genial. Mi-a placut mult, poate prea mult, iar combinatia dintre aceasta poveste si felul in care este relatata, fac cartea "Tangled" de Emma Chase sa fie letala! Din partea mea are mai mult de 5 stele. Va recomand acesta mirifica lectura din tot sufletul. Nu veti regreta nicio secunda ca v-ati apucat sa o cititi 😉
RATING
Ce parere aveti, ati mai auzit de acesta carte? Ati citit-o?